! // Get Categories from web> <! JSON Categories>
5th Wheel Hitches
CURT offers three different series of fifth wheel hitches: the A-series, Q-series and E-series. Each has its own set of advantages.
Whatever your needs or preferences, CURT fifth wheel hitches are designed for versatile application, and each one is compatible with a variety of mounting options.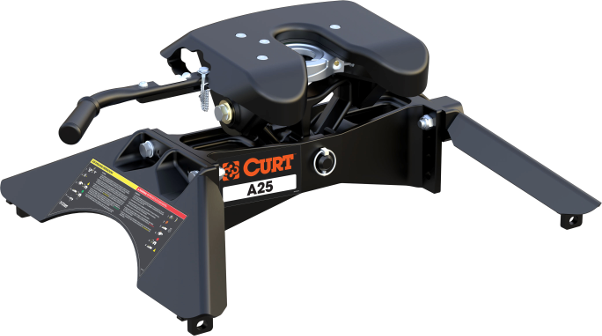 A-Series
The A-series is named for its articulating head design. The head is built on a patented cast yoke that not only supplies the necessary strength for towing large fifth wheel trailers, but also offers a stable, quiet ride. This cast yoke also features torsion springs and poly-torsion inserts to support the head and add even more stability to the connection.
Lockable, self-resetting handle for fewer steps while coupling
One-pin head attachment for easy removal and relocation of the hitch
High-strength interlocking jaws for added security and reduced noise
Compatible with Sidewinder™ pin boxes (wedge required)
Available in 16K, 20K and 25K GTW capacities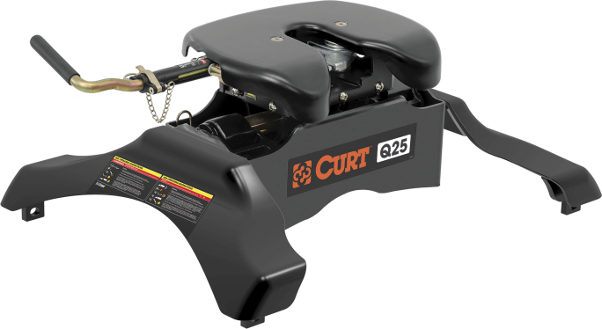 Q-Series
The Q-series is designed to offer the quietest towing possible. While the A-series is built on a cast yoke mechanism, the Q-series is built on a spherical axial bearing. This axial bearing allows the head to tilt in any direction needed to allow for a smooth ride. The head is also equipped with three grease fittings for continuous lubrication and thick rubber stoppers to cushion the head.
Lockable, short-throw, single-handle operation
Self-aligning head offers a wide opening for easy coupling
Dual jaws provide 360° kingpin contact to resist chucking noises
Available in 20K, 24K and 25K GTW capacities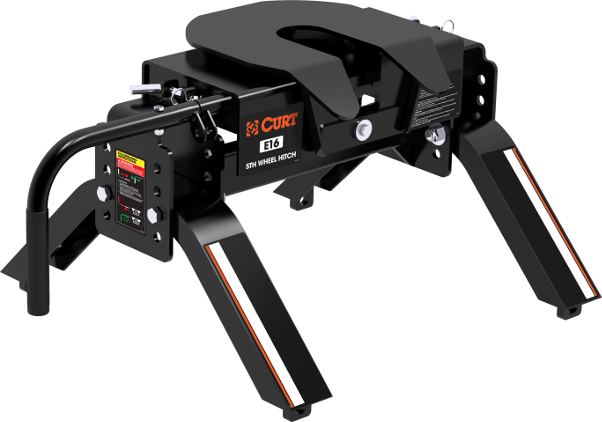 E-Series
The E-series is designed to be a more economical option for our budget-conscious customers. The E-series operates on a dual-pivoting head that provides 10° of lateral movement for comfortable towing. The head also features an anti-rattle skid plate with rubber stoppers to help promote a quiet ride.
Easy, single-handle operation
Automatic locking mechanism for simple, secure coupling
Four height adjustment positions to adapt to each unique truck bed
Compatible with Sidewinder™ pin boxes (wedge required)
Available in 16K GTW capacity only
5th Wheel Mounting Options
OEM Puck System Products
CURT OEM puck system legs and roller products use a simple quarter-turn anchoring system to easily and securely drop into the truck bed puck system built into many pickups today.
Options available for Ford, GM, Nissan and Ram (puck system required)
Legs available for long-bed trucks and roller products for short-bed
Compatible with most CURT fifth wheel hitches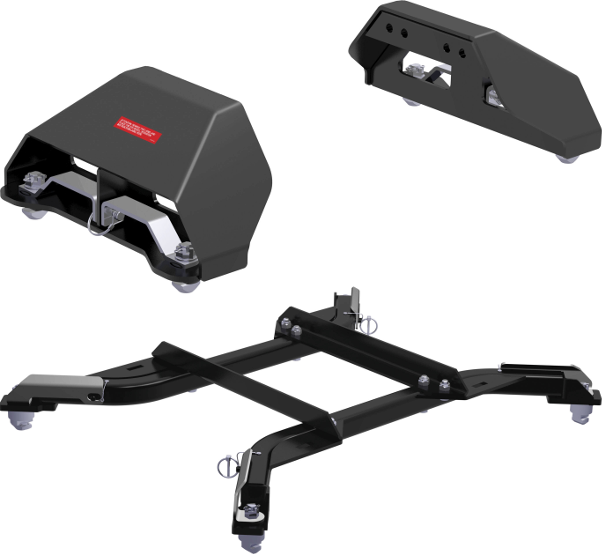 5th Wheel Rollers
CURT fifth wheel rollers are true rolling units, not just sliders, operating on solid rods and wheels to resist binding and provide 12" of added clearance when making tight turns.
Intended to provide added clearance for short-bed trucks
Available in 16K, 20K and 24K capacities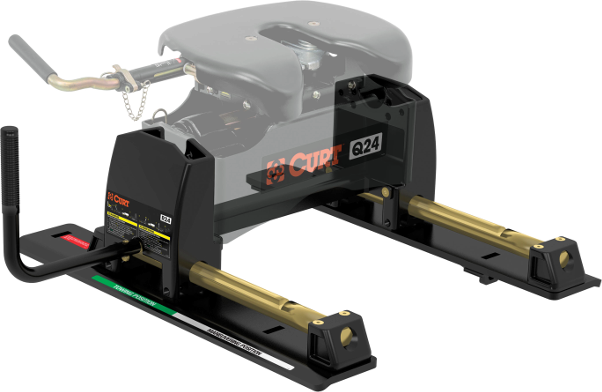 Custom Under-Bed Brackets
Each designed to fit a specific vehicle application, our custom brackets install in less time and provide a solid, under-bed mounting location for our industry-standard fifth wheel base rails.
Vehicle-specific application reduces or eliminates drilling
Protected by a rust-resistant liquid Bonderite® coating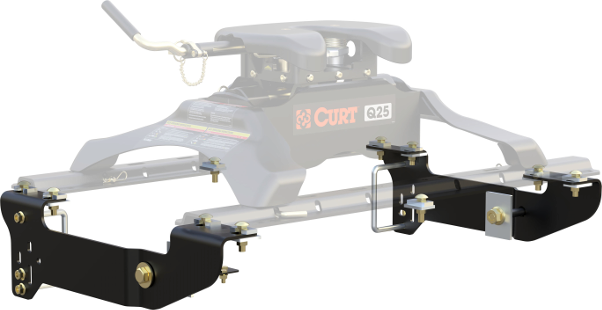 Industry-Standard Base Rails
CURT industry-standard base rails are not only designed to accept any CURT fifth wheel legs or roller, but also any competitor fifth wheel hitch with industry-standard mounting points.
Available in gloss black or carbide black powder coat finish
Co-cured in a rust-resistant liquid Bonderite® coating

X5 Adapter Plates
CURT X5 adapter plates allow a gooseneck hitch to become a fifth wheel hitch mounting platform. They easily drop into the gooseneck hole and provide a set of industry-standard base rails.
Available for EZr™, Double Lock and competitor goosenecks
Compatible with CURT 5th wheels up to 20,000 lbs.

5th Wheel Accessories
CURT fifth wheel wedges allow our fifth wheel hitches to be used with rotating pin boxes. We also offer a number of other accessories to help improve fifth wheel operation and safety while towing.
Lube plates and sound-dampening pads for smooth operation
Safety chain loops and electrical for improved safety

Sub Categories