Hitch Tube Covers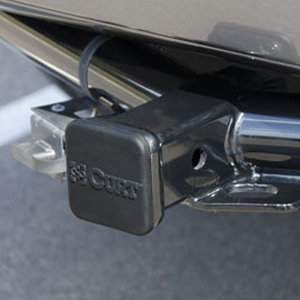 If you own a vehicle with a trailer hitch, you know how quickly the receiver tube can get built up with dirt, debris and road grime. It does not take long before inserting a ball mount or hitch-mounted accessory into your trailer hitch becomes more difficult than it should ever have to be. With enough time and moisture exposure, the inside of a receiver tube can become seized up with rust, making it very difficult to use. Keep your trailer hitch's receiver tube clean and protected when not towing with one of CURT's attractive and durable tube covers.
Available in steel, plastic or rubber, CURT trailer hitch covers easily mount onto your trailer hitch receiver and provide a cap to keep out rain water, mud and whatever else might try to find a home inside. We have hitch covers for 1 1/4" and 2" tubes. Our steel and plastic units feature a short shank that uses a hitch pin and clip to mount onto your trailer hitch just like a ball mount. Choose from chrome or black finish options. As an alternative, our rubber trailer hitch tube covers mount onto your hitch with a friction fit, requiring no pins or clips to be held securely in place.
At CURT, we want to give you a complete towing solution and that includes providing you with the products necessary to maintain your towing equipment. Defend your trailer hitch from the harsh elements with a CURT trailer hitch cover.