Plugs and Sockets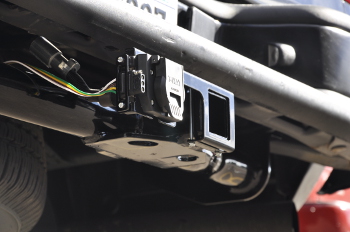 Like trailer hitches and ball mounts, electrical connectors range all over the board in shape, size and capability. The basic function, however, stays the same whether you are using a 4-way, 5-way, 6-way or 7-way. CURT electrical connectors are designed and manufactured to give you a reliable connection every time you plug your trailer into your vehicle.
CURT offers several different connectors to accommodate various types of trailers and vehicles. Our most basic connector is a 2-way flat, providing a simple connection for trailer lights. We also have 4-way flat, 4-way round, 5-way flat, 6-way round, 6-way square, 7-way round and 7-way RV blade connectors. Our 7-way RV blades are our most sophisticated plugs and sockets, providing wires for brake lights, turn signals, running lights, reverse lights, electric brakes and auxiliary power.
All CURT connectors are made with quality and expert engineering. Most of our flat connectors feature rubber-molded construction, while our round connectors come in plastic and die-cast metal options. Many of our connectors include or are compatible with dust caps to keep them well protected from dust, rain and road grime, giving you a solid connection for a better towing experience.