Locks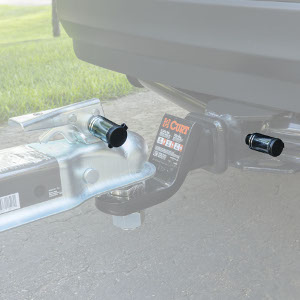 When you slide a ball mount into place, snap a coupler latch home and hit the road for a new adventure, trailer theft should be the least of your worries. Make confidence your natural towing temperament by equipping yourself with a hitch lock, coupler lock or specialty lock from CURT.
CURT hitch locks come in a variety of shapes and styles, but there are two basic sizes to fit all receiver tubes: 1/2" diameter and 5/8" diameter. Both diameters are available in a dead bolt style or barbell style to accommodate different towing setups and preferences. We also carry hitch locks with adapter sleeves to fit multiple receiver tube sizes, as well as anti-rattle locks to help quiet a noisy ball mount shank. All CURT hitch locks come with watertight dust caps to keep the internal components well-protected on the road. They also come with two keys and feature 1/4-turn lock activation for easy operation.
For securing your trailer, whether it's coupled to your vehicle or parked out for the night, CURT coupler locks are the ideal security accessory. These come in two basic styles -- barbell and padlock -- and feature the same easy-to-operate, 1/4-turn lock activation as our hitch locks. We offer multiple coupler lock sizes, including an adjustable design, to fit a variety of latch spans. All CURT coupler locks come with a 1/4" diameter pin and two keys.