Trailer Balls for All Your Towing Needs
At Hitches N More, we want you to enjoy your next adventure without worrying about the safety and security of your load. That's why we provide tried and true CURT products for every part of your trailer hitch system. Your trailer ball is a crucial component of that system and it needs to be correctly fitted to your trailer coupler. So, whether you need a 1 7/8", 2", 2 5/16", 3", switch trailer ball, or specialized trailer ball, you'll find it at Hitches N More.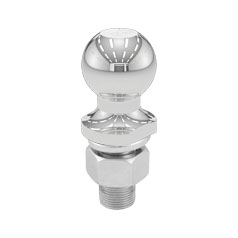 1 7/8" Trailer Balls
All 1 7/8" trailer balls fit 1 7/8" couplers.
They accept up to 2000 or 3500 lbs. GTW.
They are constructed from high-strength, hot-forged steel or rust-resistant stainless steel.
They feature a zinc-plated hex nut and helical lock washer for secure mounting.
They feature fine threads for superior holding strength.
They have been tested for safety to meet U.S. VESC V-5 specifications.
Browse our selection of 1 7/8" Trailer Balls
Check out other Trailer Ball Sizes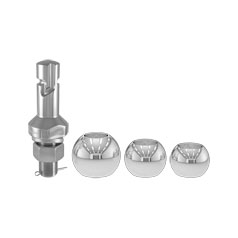 Switch Trailer Balls
All our switch ball trailer balls and switch ball trailer ball sets:
Feature an exclusive 'J' groove design for secure attachment to the shank
Do not require tools, coins, or pins for installation
Ensure that the shank bears the weight, freeing the coupler from friction and binding
Are constructed from high-strength steel
Are protected by a premium grade, nickel chrome-plated finish
Are independently tested to SAE J684 standards and proven safe
Browse our selection of switch ball trailer balls, switch ball trailer ball sets, and more
Specialized Trailer Balls
Choose from among these specialized trailer balls: